Bristol Lodekka 38A Bournemouth (Wilts and Dorset) 1:76 scale Diecast Model in Cream by Corgi
More Information
Brand
Corgi
Size
10cm / 3.9in long
Scale
1:76 Scale
Colour
Cream
Features
Limited edition model
Comes in its own display case
Working wheels
This Bristol Lodekka 38A Bournemouth Diecast Model Bus is Cream and has working wheels and also comes in a display case. It is made by Corgi and is 1:76 scale (approx. 10cm / 3.9in long). Established in Salisbury in 1915 - Wilts & Dorset Motor Services Ltd operated regular services throughout South Wiltshire - East Dorset and North Hampshire - operating a diverse fleet of vehicles. Surviving ownership under the Tilling and British Automobile Traction (T&BAT) Group - Southern Railway and Nationalisation in 1948 - in 1969 the company was absorbed into Hants & Dorset under the National Bus Company. In 1972 the Wilts & Dorset name disappeared - but was revived in 1983. In January 1966 - Bristol Lodekka 646 - registration 684 AAM - was painting into a unique cream and maroon livery for operation on the Salisbury to Bournemouth limited stop service - retaining it until May 1969. The limited stop 38A route between Salisbury and Bournemouth ran via Fordingbridge - Ringwood and Ferndown (the Bournemouth Spur Road from Ashley Heath to Cooper Dean having not yet been built) - and did the journey in 78 minutes. There were two journeys in each direction on weekdays - with timings suitable for people commuting to Bournemouth - or making day visits to Salisbury. Limited edition of 1500 pieces worldwide complete with numbered certificate.
Diecast models are manufactured to various scales based on measurements taken from the actual vehicles. As a rule the higher the scale, the smaller the model!
Here is a rough guide to the size of our models although this will vary depending on the size of the actual vehicle. Please note that the scale and size of models differs per department. Please refer to the individual product page to find out the estimated size of the actual model you would like to purchase.

Aircraft
Please note that there is a vast variation in aircraft sizes due to different aircraft designs. Please refer to the individual product pages for an estimate of the model size. The model sizes refer to the wingspan measurement.
1:400 scale will be approximately 8-15cm long
1:144 scale will be approximately 15-20cm long
1:72 scale will be approximately 12-25cm long
1:48 scale will be approximately 23-30cm long
Bikes
1:24 scale will be approximately 8cm long
1:18 scale will be approximately 10-12cm long
1:12 scale will be approximately 14-18cm long
1:10 scale will be approximately 20-28cm long
Buses
1:76 scale will be approximately 10-15cm long
1:64 scale will be approximately 14-20cm long
1:50 scale will be approximately 16-23cm long
1:24 scale will be approximately 28-32cm long
Cars
1:64 scale will be approximately 6cm long
1:43 scale will be approximately 10cm long
1:24 scale will be approximately 15-25cm long
1:18 scale will be approximately 20-30cm long
1:12 scale will be approximately 30-40cm long
Commercial
1:76 scale will be approximately 10cm long
1:50 scale will be approximately 30-35cm long
1:24 scale will be approximately 25-40cm long
Farm
1:64 scale will be approximately 10-15cm long
1:50 scale will be approximately 20-25cm long
1:32 scale will be approximately 16-28cm long
1:16 scale will be approximately 23-30cm long
1:12 scale will be approximately 25-35cm long
Military
1:72 scale will be approximately 16-23cm long
1:50 scale will be approximately 12-18cm long
1:32 scale will be approximately 16-28cm long
Plant
1:50 scale will be approximately 5-20cm long
1:32 scale will be approximately 11-22cm long
1:25 scale will be approximately 25-30cm long
Race Cars
1:43 scale will be approximately 10cm long
1:24 scale will be approximately 15-25cm long
1:18 scale will be approximately 20-30cm long
1:12 scale will be approximately 30-40cm long
Same marque and scale model buses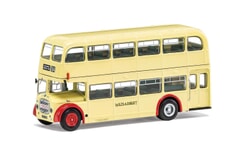 Model buses by the same company
Other similar model buses