Henschel 123A (Unit 3/SFGR 50 Lt. Hamann) 1:72 scale Diecast Model Airplane in Camouflage by Oxford Diecast
More Information

| | |
| --- | --- |
| Brand | Oxford Diecast |
| Size | 14cm / 5.5in wingspan |
| Scale | 1:72 Scale |
| Features | Comes with a display stand. |
The Henschel Hs 123A was a single seat biplane dive bomber and close-support attack aircraft developed and built by Henschel - a company previously engaged in building railway locomotives. It saw an opportunity for aircraft design and build after Hitler came to power in 1935 and the subsequent formation of the Luftwaffe.? The HS123 first took to the skies in 1936 and was flown by the German Luftwaffe in the Spanish Civil War.? It also saw service during the first stages of World War II but proved inadequate compared with rival aircraft.
Diecast models are manufactured to various scales based on measurements taken from the actual vehicles. As a rule the higher the scale, the smaller the model!
Here is a rough guide to the size of our models although this will vary depending on the size of the actual vehicle. Please note that the scale and size of models differs per department. Please refer to the individual product page to find out the estimated size of the actual model you would like to purchase.

Aircraft
Please note that there is a vast variation in aircraft sizes due to different aircraft designs. Please refer to the individual product pages for an estimate of the model size. The model sizes refer to the wingspan measurement.
1:400 scale will be approximately 8-15cm long
1:144 scale will be approximately 15-20cm long
1:72 scale will be approximately 12-25cm long
1:48 scale will be approximately 23-30cm long
Bikes
1:24 scale will be approximately 8cm long
1:18 scale will be approximately 10-12cm long
1:12 scale will be approximately 14-18cm long
1:10 scale will be approximately 20-28cm long
Buses
1:76 scale will be approximately 10-15cm long
1:64 scale will be approximately 14-20cm long
1:50 scale will be approximately 16-23cm long
1:24 scale will be approximately 28-32cm long
Cars
1:64 scale will be approximately 6cm long
1:43 scale will be approximately 10cm long
1:24 scale will be approximately 15-25cm long
1:18 scale will be approximately 20-30cm long
1:12 scale will be approximately 30-40cm long
Commercial
1:76 scale will be approximately 10cm long
1:50 scale will be approximately 30-35cm long
1:24 scale will be approximately 25-40cm long
Farm
1:64 scale will be approximately 10-15cm long
1:50 scale will be approximately 20-25cm long
1:32 scale will be approximately 16-28cm long
1:16 scale will be approximately 23-30cm long
1:12 scale will be approximately 25-35cm long
Military
1:72 scale will be approximately 16-23cm long
1:50 scale will be approximately 12-18cm long
1:32 scale will be approximately 16-28cm long
Plant
1:50 scale will be approximately 5-20cm long
1:32 scale will be approximately 11-22cm long
1:25 scale will be approximately 25-30cm long
Race Cars
1:43 scale will be approximately 10cm long
1:24 scale will be approximately 15-25cm long
1:18 scale will be approximately 20-30cm long
1:12 scale will be approximately 30-40cm long
Same marque and scale model aircraft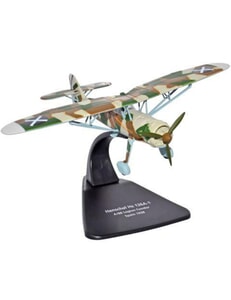 Model aircraft by the same company
Other similar model aircraft