The Hobby of Building Model Kits
Building model kits is one of the most popular pastimes in the world, and it is easy to see why. We are going to take a closer look at everything you need to know if you're thinking about taking up this satisfying hobby or want to take your kit building to the next level. With a variety of difficulty levels, model types and scales across a wide range of genres, building model kits is a pastime that is accessible to anyone. So, are you looking to expand your model collection by doing it yourself, or want to take on and conquer a new challenge? Well you're in luck, as everything you need to get started is right here.
What is a model kit?
Model kits are essentially model cars, bikes, aircraft, tanks, figures and more, that come in many different pieces ready for you to assemble. The combination of two hobbies, model collecting and arts and crafts, come together to produce the brilliant combination of collecting your favourite models and collecting new skills. The main goal is simple, use the pieces and instructions provided and complete the build to match the finished article presented on the box. We have looked into the different elements you need to consider to achieve the best model kit building experience for you.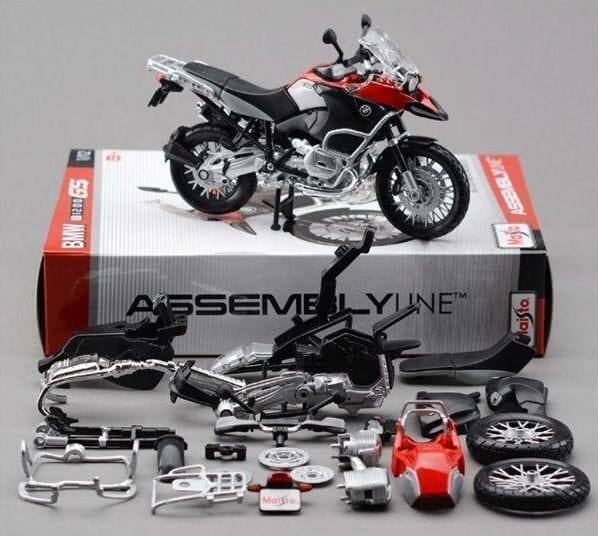 Why build a model kit?
There is nothing quite like the satisfaction you get from completing a task or ticking off your to-do list. Building model kits captures this feeling perfectly as you gradually see your creation take shape in front of you with every piece you add and drop of paint you apply. Ticking off each step as you go can become quite relaxing as long as the mechanics of the build itself are not a step too far in terms of difficulty level. This is where the approach to kit building, and the joys to be had from it, are down to personal preference. If you are looking for a challenge that will push you and drive you to add to your abilities, then you can look exclusively to the higher skill level kits for that next test. However, if you are searching for a more casual and relaxing kit building experience, the easy and medium skill levels will have exactly what you need.
Building a model kit is like a small-scale version of owning a project car that you work on and tweak to get it exactly how you like it and experience the transformation taking shape. So, as you increase your skill-set and have taken on the challenge of applying paint-work and assembling models comprised of a large number of pieces, you can start to allow your creativity to make your collection truly unique to you. You can apply your own paint colour scheme to make a custom livery, so if you have always wanted your own bright orange Nissan GT-R with a black rear wing and wing mirrors to match, building and painting a model kit is the easiest and most cost-efficient way to do so. Customising model kits can also provide artists with the opportunity to express themselves with a livery that contains their artistic flair with any colour scheme and pattern combination imaginable.
Which model kit is right for you?
To achieve the undeniably satisfying feeling of completing a model kit, it is important to ensure that you approach a kit that has the appropriate skill level to make the assembly process enjoyable. If you aim to high and attempt a kit that is too difficult, then the experience is likely to become frustrating and the kit is more likely to be left unfinished. Aim too low, and the satisfaction of completing the build will probably diminish and leave your potential kit building talents untested and unfulfilled. So, think of Goldiocks and target a kit that is just right and won't leave you annoyed and regretting your purchase, but will satisfy your itch to create. At the Mini Model Shop, we have put together a skill level system of our own to make the model kit buying process as easy as possible. Skill level takes into account the amount of pieces to build, whether paint is required and how the kit is assembled.
Model kit skill levels
Very Easy Model Kits - Level 1:
Level 1 mostly includes snap kits that come pre-painted, are comprised of minimal parts mostly made of plastic and can just be snapped into place without any glue involved. Think of these kits as a 3D puzzle, making them great for young beginners to get started on their kit building journey. This level is just right for children under 10, but would perhaps be too easy for older age ranges, and are a safe bet for gift-buyers considering the low difficulty level and lack of small parts.
Easy Model Kits - Level 2:
The gradual step-up to level 2 sees a bit more required in the assembly process. The level 2 kits, like level 1, come pre-painted but the added challenge in building the model provides a reasonable jump as a technical test. The Maisto car and bike kits are a prime example of a perfect level 2 kit. These Maisto kits come with a screwdriver, which is the main tool needed to complete the build, which requires adding smaller parts like the wheels and windscreen of a car to the shell of the vehicle. Level 2 kits are suitable for 10-14 year olds that are eager to take their kit building skills to the next level, ready for more challenging kits to come.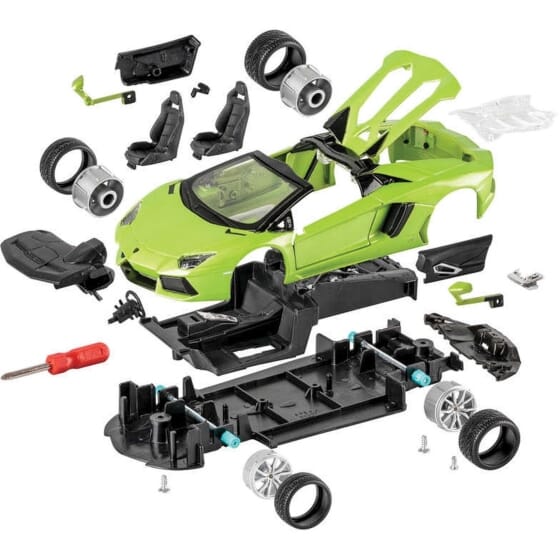 Medium Model Kits - Level 3:
Level 3 is the sweet-spot in terms of model kit building. The increase in difficulty from level 2 is substantial, but not too extreme. This means that the level 3 kits provide the right level of challenge for adult beginners, teenagers with an experience of model kits, and for those crafts-people that want to keep their hobby to a relaxing and satisfying test. Level 3 brings paint into the assembly process which requires a steady hand and eye for detail to achieve the best result, but at level 3 the paint-work required is less intricate so doesn't provide too daunting a task. Level 3 model kits also require glue to build further separating level 2 and level 3 in terms of complexity.
Hard Model Kits - Level 4:
Level 4 adds further to the model kit building experience. The difference in level above level 3 is a little more subtle than from levels 1-3. With a larger quantity of smaller parts and more complex paint-work required for some racecar models, for example, your model kit building skills will be pushed to a new level.
Expert Model Kits - Level 5:
For the most experienced model kit builders who want to push the boundaries of their model kit building skills, the level 5 kits are the ones to look out for. These model kits are the biggest and most complex models to build. Comprised of a larger quantity of parts, meaning more smaller parts that are more tricky to apply, and often with a higher skill level of painting required, makes the level 5 model kits the toughest kits to build at the Mini Model shop.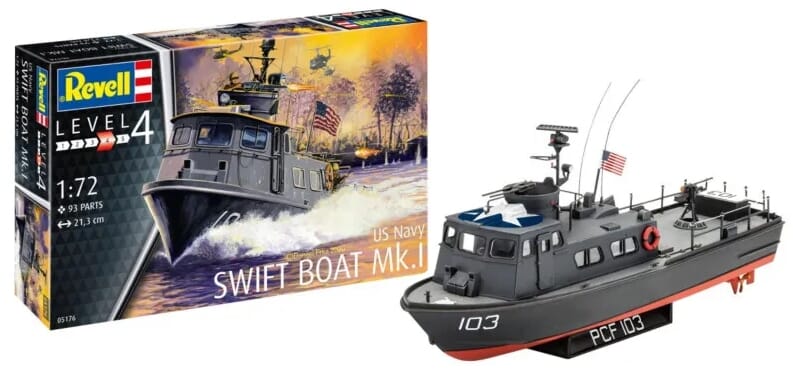 Genres of model kits
When choosing a model kit, it is important to look for models that are relevant to something that interests you. This means that you can combine two hobbies. You can put the love and effort into making the model, and at the end of the project you will have added to your model collection. There are kits for almost any interest from a wide range of different brands: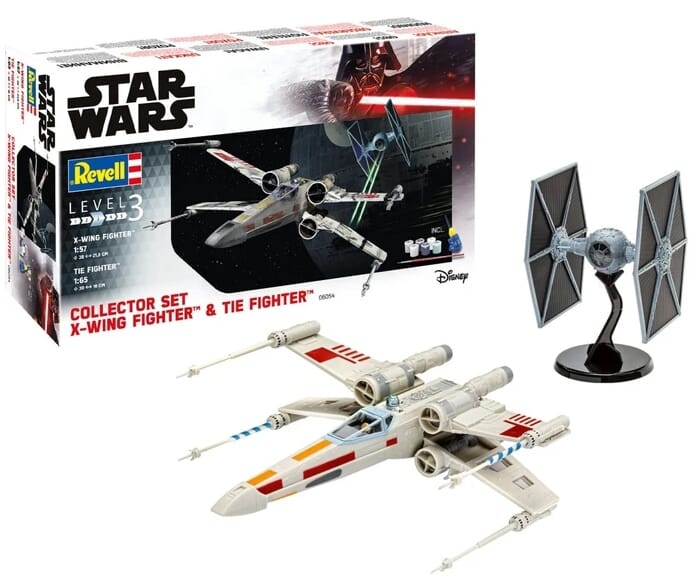 For car and racecar model kits, Maisto, Hasegawa and Fujimi are the main brands to go to. Most car model kits fall in the level 2 and 3 skill levels as the main shell of the vehicle comes in once piece and you have to add the smaller pieces onto it. Maisto also produce a range of model bike kits, along with Tamiya who produce race bike model kits. Road bikes, similar to the cars, are usually in skill level 2 and 3, with some race bikes reaching skill level 4 due to the more complex liveries.
Film and TV model kits include some of the biggest names and franchises in the film industry. A lot of variation in model types can be found across film and TV model kits. Vehicle kits from the likes of Fast and Furious and Back to the Future work well for those with experience of car model builders and can expand a collection to include your favourite cars from your favourite movie franchises. For a different challenge, film and TV character kits present a fresh way for figure collectors to add to their collection with DC Comics and The Mandalorian serving as examples of the big names available. For a brand-new model kit building experience, spacecraft models present an interesting challenge. Recreating iconic spacecraft from the biggest franchises in film and TV history like Star Wars kits by Revell and Star Trek provide a unique model making experience for film lovers, and model kit builders alike.
Aircraft and military kits are amongst the most popular genres of model kits, Revell and Airfix having a long history of making these. Typically, model kits in these genres fall into the higher skill levels, with more parts, larger models and intricate paint-work all required more often than not, they certainly present a tougher challenge. If you are interested in history, then military and aircraft model kits will be of interest. Building a part of history in a detailed model kit is a demanding but rewarding experience, and there will always be a rich list of options to add to your collection.
Different types of model kits
Snap Together Model Kits:
No glue, no paint, no screws. The snap together kits are quick-build model kits. Typically made of plastic, the focus is on the basics of putting the right piece in the right place. This is why they mainly find themselves in the skill level 1 category. They make great gifts for someone to add a bit of fun to the model experience and also a great starting point for young kit builders of the future.
Snap Together Model Kits:
No glue, no paint, no screws. The snap together kits are quick-build model kits. Typically made of plastic, the focus is on the basics of putting the right piece in the right place. This is why they mainly find themselves in the skill level 1 category. They make great gifts for someone to add a bit of fun to the model experience and also a great starting point for young kit builders of the future.
Screw Together Model Kits:
No glue and usually no paints are required for screw together model kits, but the skill level required for the mechanics of putting the right pieces in the right places is more advanced than a snap together model kit. Screw together model kits are made of diecast metal with plastic parts, meaning the end result replicates that of a pre-built model car or bike. With the added challenge of building the model kit, you get a taste for life working in the assembly line at a company like Maisto.
Glue Together Model Kits:
The most complex builds are plastic glue together model kits. A considerable step-up in difficulty of assembly, experienced builders will have acquired a good selection of glues and paints, so for any new glue together model kit builders, it's worth bearing in mind that these kits do not always come with glue and paint provided. Glue together model kits tend to be made of plastic, but sometimes wood or metal, and different glues and paints may be required for each material. With a higher difficulty level comes a higher reward, apply the perfect paint to match the image on the box, or customise and make it your own. The choice is yours.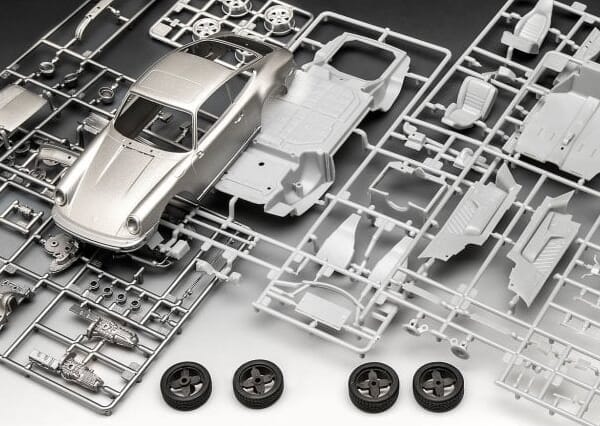 The Mini Model Shop model kit collection
We have put together, and are continuing to add to, a vast collection of diverse model kits for all skill levels and interests at the Mini Model Shop. Model kits from the best brands in the business in all shapes and sizes, our aim is to have something for everyone in our ever-growing collection.
If you have any questions about model kits, or can't find what you are looking for, then please do get in touch and we will be happy to help you.