From his debut at 17 years of age, to his MotoGP retirement at 42, Valentino Rossi's career may never be replicated!
The Doctor, Valentino Rossi was a formidable force and an unrelenting contender throughout the majority of his 25 year MotoGP career. One of the biggest names in motorsport, the Italian legend has supplied the world with a long list of unforgettable racing moments. With a mixture of charisma and charm off the track, the truly elite level of talent, ruthless mind games, and fierce competitive spirit made him an instant fan favourite amongst MotoGP fans worldwide; an almost cult-like fan base that remains loyal to this day. Nine times World Champion, and the only rider to win titles in the 125, 250, 500cc and MotoGP categories, Rossi has engaged in battle against a long list of riders: Maxi Biaggi, Jorge Lorenzo, Casey Stoner, and Marc Marquez, to name a few. To go up against The Doctor must've been a thankless task, with every race being a home race for Rossi, even his rivals' home races would be a fairly even split of hostility and support. All of these aspects of Rossi's career combine to make a truly cinematic experience. Unforgettable race and title wins against an abundance of world class rivals resulted in some iconic celebrations that can only be pulled off by such a loveable legend. The Snow White and the Seven Title Wins celebration displayed The Doctor's sense of humour, marking his 7th world title in style, and just an example of the showmanship Rossi brought to motorcycle racing.
So looking forward, it's safe to say that Valentino Rossi is not yet done with his racing career. Although his time on two wheels may have come to an end it appears that he is ready to continue his work on four wheels, already having seven wins at the Monza Rally under his belt Rossi seems to be able to excel at anything he tries. The next challenge for The Doctor comes in the form of endurance racing in the GT World Challenge. We'll be keeping a close eye on how he adapts to this chapter of his career, after a solid debut at Imola, fans everywhere will be hoping that the famous, luminous yellow of VR46 can progress towards the summit of the GT World Challenge series.
For any fans of Valentino Rossi and the MotoGP, the Mini Model Shop is always worth keeping a close eye on. The Minichamps Valentino Rossi range includes stunning models with great attention to detail, many of which are replicas of specific races and iconic moments from Rossi's illustrious career. From a 1:6 scale figure of the man himself on the podium celebrating his 7th title win at the 2005 Sepang GP, to an immense 1:4 scale replica of the Yamaha he rode to his title victory at Phillip Island in 2004, the Minichamps range is worth checking out for any VR46 fan. If your'e like me and love everything Rossi, then the IXO replicas of Rossi's Monza Rally winning Ford Fiestas from 2012 and 2015 are an essential part of any collection with their distinctive VR46 liveries.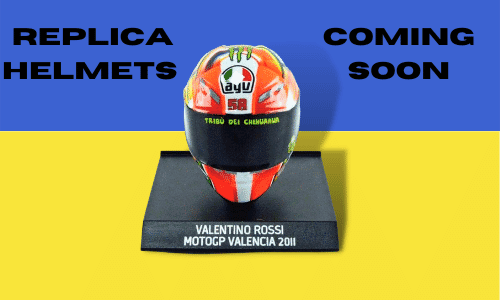 One of the fastest selling Valentino Rossi products we've had are the Replica Helmets. With some of the unique deisgns The Doctor displayed throughout his career, and the craftsmanship put into them it is easy see why they are so popular.